Yoga
Jill began studying yoga with Kumar Pallana in the attic of the cosmic cup (the only vegetarian restaurant in Dallas, Texas). She was immediately impressed by the balance the asanas brought to her overworked and hyper-mobile body and to the reflective space it granted. Continuing her yogic studies brought Jill to Vinyasa teacher Peter Rizzo at Bhava Yoga in the East Village, NYC. Rizzo's creativity with Vinyasa flow and his childlike affection for yoga are still held as a point of inspiration for Jill's teaching. After the birth of her two sons (and some pregnancy inspired pelvic instability), Jill's Vinyasa practice no longer felt appropriate for a hyper-mobile dancer's body. She needed a practice that focused on stability, grounding, and good alignment. This lead her to study at the Iyengar Yoga Institute in Amsterdam. Jill completed two years of the three year Yoga practitioner education at the Iyengar Institute. While appreciating the richly detailed focus on alignment and support that Iyengar teaches, she found the approach to real bodies and real people impractical and rigid.
Jill's experience with Iyengar would lead her to the playful possibilities of Aerial Yoga. Jill attended her first aerial yoga lesson quite by chance and was immediately hooked. She completed her aerial yoga education in 2018 with Janneke van Amelsvoort at Aerial Yoga NL. The range of possibility, sensation, and challenge the hammocks provide continue to fascinate and inspire Jill's movement research and teaching.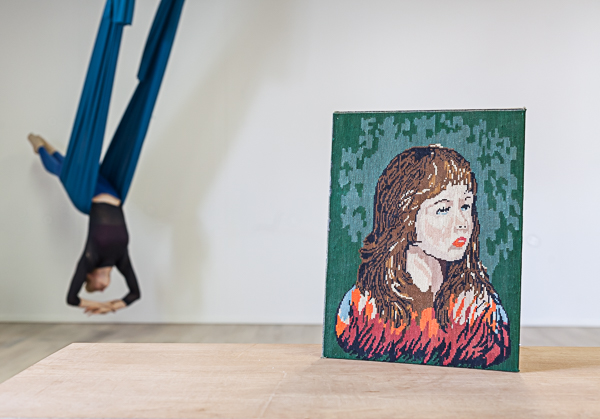 Jill has dedicated the last thirteen years of her movement career to teaching contemporary Pilates. She began her mat education at the Kane school for Movement Integration (now Kinected) with master teacher Kelly Kane in NYC in 2005. The Kane school encouraged Jill to develop her 'eye for movement' and a passion for functional anatomy. In 2009, she completed the 500 hour Pilates comprehensive education at Smartbody studios with Jelena Petrovich in Amsterdam. The Smartbody education would qualify Jill to teach on all the Pilates apparatus. The creativity and problem solving capabilities that the Pilates apparatus facilitate would serve as a sort of movement playground for the next decade of Jill's teaching. Jill is also certified to teach on the Pilates Oov, the Bosu and Pilates Springboards.
Jill would continue her Pilates pursuits studying with some of the most respected and recognized Pilates institutions and practitioners in the world. Continuing education and certifications worth mentioning include…
Injuries and pathologies courses with BASI Pilates.
Pilates for back pain workshops with Polestar co-founder Brent Anderson.
Pre and post natal Pilates Polestar trainer and Alexander Practitioner Francis Melis.
Approaching Pain and touch workshops with physical therapist Alexander Bohlander.
Touch and Evolutionary Anatomy workshops with Alexander practitioner Patrick Johnson.
Pelvic workshops with pelvis guru Liz Koch.
Fascia in motion workshops with Elizabeth Larkem. Centering and observation workshops and mentoring with Madeline Black.
Working with abundant bodies with Madeline Black.
She has also completed her first degree Reiki certification.